Professional, Italian, Daring: this is enough to define the people behind this venture!
When you find MotorcyclesData.com searching on the web, or surfing on social ,or talking with a friend, is because we love to create something new and share it globally. The idea is to create the largest Motorcycles Global Sales Database, tracking motorcycles sales in any country of the World. Something like focus2move does in the four wheels industry, but more difficult considering no one succeeded before in this task.
Headquartered in Rome, we started up this venture in mid-2018 and already now we manage the largest Motorcycles Global Sales Database and are already providing immense benefit to our Clients, helping to know the actual reality to project their own future.
MOTORCYCLES GLOBAL DATABASE
Scouting through 300 different sources, we track and study the global market trend for each segment, brand and model actually on sales in any corner of the World. And we keep updating, day after day, building up the largest Motorcycles Sales Database in the World!
Actually our Database covers the following markets:
Canada, USA. Mexico, Guatemala, Nicaragua, Honduras, Panama, Colombia, Ecuador, Peru, Chile, Brazil, Argentina, Paraguay, Uruguay, Portugal, Spain, France Ireland, Great Britain, Belgium, The Netherlands, Germany Switzerland, Austria, Italy, Greece, Cyprus, Bosnia, Croatia, Slovenia, Czech republic, Slovakia, Poland, Denmark, Norway, Sweden, Finland, Lithuania, Lettonia, Estonia, Russia, Ukraine, Bulgaria, Moldova, Macedonia, Turkey, Egypt, Morocco, Ghana, Kenya, South Africa, Nigeria, Israel, Iran, India, Sri Lanka, Bangladesh, China, South Korea, Japan, Taiwan, Philippines, Vietnam, Thailand, Indonesia, Malaysia, Australia, New Zealand.
Data are available by year/month/country/segment/wheels/brand/model/engines/torque
MARKET INTELLIGENCE
We support our Clients providing sales data reports for each country or region, with details including forecast on industry trends and market outlook.
The Client receives a monthly report on the selected data and is always a step ahead of all competitors with a full view of the global and local market dynamics. Market data are an essential instrument for Marketing staff responsible to plan products life cycle, for Sales forces to check performance index and market share, for Finance staff to budget volume evolution with feet firm on the ground.
MARKET RESEARCH
McD market research provides insights, data, forecast on single market, region, global trends with historical data from 2012 (can be different country by country) and forecast up to 2025.
MCD market researches are the best tool to identify opportunities to penetrate new markets and to analyze the competitive scenario of each territory, enabling our Clients to take the right business decisions based on "up-to-the-minute" facts with in depth data.
See here a sample of our researches: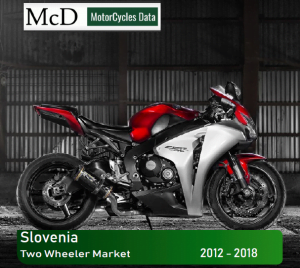 Slovenian Two Wheeler Market 2012-2018
CONSULTING
MotorCycles Professional Team supports with additional updated information on local regulations, tax & duties, emission standards, policy for the sector, barriers to import or export, local production, distribution channels, MSRP price, brand's local positioning and others.