Mexico Motorcycles Market near doubled sales in the period 2014-2019 reaching over 1 million annual sales and surging in the 9th place worldwide, second in America, after Brazil. The market is dominated by local brands, with Italika holding near 70% of the market and Vento and Caravella in the podium.
The new eldorado
Mexican motorcycles market is one of the most dynamic worldwide, with a medium term growing path started over one decade ago. Indeed, the growing demand for two-wheeler vehicles in the country is strongly related with the born and the astonishing success of the local icon, Italika, founded 15 years ago and already over 700.000 annual sales.
However, Italika is not the only local producer, as other brands on top of the local competition are made in Mexico, like Caravela and the second best seller, Vento, which is a company based in US, but selling in Latin America.
The market is growing interrupted since the 2014, with a series of sixth all time record and over doubling the annual volume. If the 2014 record was already quite relevant with 585.000 sales, in the 2018 the market marked the 1 million units milestone for the first time and in the 2019 has consolidated the position with near 1.050.000 sales.
Thanks to this extraordinary development, the market advanced as the second largest in the American continent (behind Brazil) and is the ninth in the World.
The uniqueness of this market is represented by the current sales mix, in which the local brand represent over 85% of sales, with Japanese brands not dominating as in the rest of the World and with premium brands marginal with less than 2% of market share.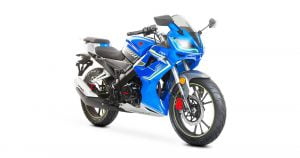 Looking ahead
The introduction of Euro 4 emission level in the 2020 will further help the market development and represent an opportunity for local brands to improve their technology and export in the surrounding countries.
The expected 2020 opening of a the new plant built by Bajaj Auto, the India's largest exporter of two-wheelers, which relevant success particularly in the Latin American region and African markets, will represent a clear step ahead for the industry. The new factory in Lerma, State of Mexico will have a capacity of 50,000 units a year which can be doubled in five years to supply Mexican and other Central American markets. 
Bajaj will not be the first foreign manufacturer to produce in Mexico. Honda motor has a capacity of 100.000 units in the Guadalajara plant, opened in 1985, with main production focused on GL150, CGL125, XR150L, DIO, CB190R models.