Pakistani Motorcycles Industry in the 2019 lost 12% of volume, following the previous year all-time record, hit by increased duties and currency devaluation, with vehicles price increase. Honda dominates the market with over 60% of share ahead of a group of local brands and the other Japanese, Yamaha and Suzuki.
Economic Environment
Pakistani economy most certainly remained on feeble footing at the outset of FY 2020. Large-scale manufacturing contracted at a sharper rate in July–August than in Q4 FY 2019, while higher electricity tariffs, a sharp decline in remittance inflows in July–September and intensifying inflation will have pinched household spending. On a brighter note, freefalling import growth and a slow recovery in exports—largely due to the weaker rupee—helped to significantly narrow the current account balance in Q1 FY 2020, reducing external imbalances. Meanwhile, in the political arena, public protests erupted in early November demanding the resignation of Prime Minister Khan.
Growth is projected to decelerate in FY 2020, dragged by slowing private consumption due to higher government's taxes and tight monetary conditions. That said, ongoing reforms should support growth. Pakistan's wide twin deficits, financing requirements and tensions with India pose additional risks to the outlook.
Market Trend
In a such not positive economic environment and following years of rolling growth, the country' main industry – the two-wheeler – has declining inexorably, following years of fast growth. Additionally, the beginning of the fiscal year 2019-20 witnessed the imposition of various additional taxes and duties by the government such as Federal Excise Duty (FED). With a sharp depreciation of Pakistani Rupee against the US dollar, the vehicles prices went up massively. 
According to data released by the Pakistan Association of Automotive Manufacturers, in the 2019 the new two/three-wheeler sales have been 1.67 million , down 12.0%.
Best selling Brands
As far as regard the competitive landscape, all competitors are producing locally and just a reduced number of manufacturer are fighting in the market, with local brands (DYL, Sohab, United Auto, Sazgar, Road Prince, Hero Motor (a Pakistan company) Ravi) Japanese (Honda, Suzuki and Yamaha) and Chinese (Qingqi).
The most of the demand is concentrated on motorbikes in the 125-150 cc range quite flexible for the local unpaved roads and affordable for people with a still limited purchase power. Premium brands are not yt landed here as the scooter manufacturers, because their segment are negligible. Even Japanese are locally producing low displacement-low cost models and not importing their top class models.
Market leader is Honda with over 60% of market share and 2019 sales at 1.08 million units (+5.5%) with the CB 150F as best model. 
In second place there is the local brand United Auto with 339.537 sales (-20.1%) and in third Road Prince with sales at 145.426 (-27.3%).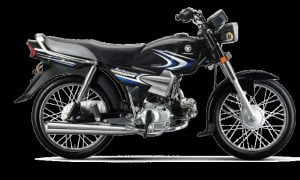 Market Heritage
Before 2004, nobody could ever think, Pakistan motorcycle industry could flourish at such an exorbitant scale. In those years the market volume was below 0.1 million annual units and there were only two companies,Atlas Honda and Dawood Yamaha,operating in the market. Suzuki and Qingqi had very small share.
Thanks to a government open policy, new manufacturers entered the market backed by Chinese technology, and the sector become crucial to sustain the economic development of Pakistan in the last 15 years, becoming – by far – the first solution for individual mobility. 
The following factors played a vital role in this development.
Cheap but reliable technology from China.

Independent sourcing of technology i.e Engines from China and Body parts from local vendors.

Assemblers of Japanese brands had to pay a big amount as royalty to their principals, while new assemblers are sourcing everything independently. It has reduced bike cost.

Overhead expenses are small as most of the companies operate in limited areas.

Financing/leasing facility is available at local level. This facilitated lower-income people to buy a bike despite limited resources.
In recent years, Pakistani motorcycles industry has been among the fastest in the World. Indeed, the milestone of 1 million units has been hit for the first time only in the 2015 and now the market is already running towards the 2 million annual sales. Following the over 1.4 million sales achieved in the 2017, the market further boomed in the 2018, with a record of 1.900.382 sales. up 6.6%, and scoring the new All Time Record.
However, the depreciation of rupee, the tax increase and less cash available for credit, penalized the market since the end of 2018, with motorcycles price further increasing discouraging the demand and the market has taken a negative path.
This article was written with the contribution of Mr. Imtiaz Ahmad, a Motorcycles professional living in Pakistan.