Spanish Motorcycles Market in 2019 gains one place in the European ranking, scoring the sixth increase in a row with a robust double-digit performance. Total year sales were 202.969 (+11.0%) while Honda took control followed by Yamaha and Kymco. The electric segment grew up 46.7%, while BMW is up 9% and Harley–Davidson is down 9%.
Economic Environment
Spanish economic activity in the final quarter of the year, after a strong rebound in consumer spending buttressed growth in Q3. Industrial production shrank for the first time in seven month in October, while the manufacturing PMI remained firmly entrenched in negative territory in October and November amid ongoing economic and political uncertainties. These conditions will likely also bite into household consumption, as reflected by slowing retail sales growth in October and consumers turning deeply pessimistic in November. 
The economy is projected to lose traction in 2020, in part due to a less supportive external environment. These include soft Eurozone activity; a more subdued global economy, weighed on mainly by the U.S.-China trade war; and a cooling tourism industry—a major contributor to growth and employment. 
Market Trend
According to data released by the Minister of Transportation, the 2019 will be remembered as really positive for the two-wheeler industry with sales increased 11.0% at 202.969, scoring the sixth consecutive increase in a string. Thanks to this performance Spain is now back as third market in Europe, overtaking Germany, behind France and Italy.
All segments are growing, with the Motorbikes up 37.5%, the Scooter/Tricycles over 50 cc up 49.0% and the Moped 50cc up 8.2%.
In the first nine months of the year, 11.020 sales have been for electric models, up 46.7%, with two brands, Scutum and Askoll holding over 50% of sales.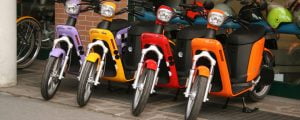 Competitive Arena
Spanish market is almost concentrated with the Top 10 brands holding 74.5% of the total volume, while 178 brands have registered at least one units in the 2019.
As in the past, in 2019 the market leader was Honda with 35.965 sales (+13.0%) holding 17.8% of share. Honda is market leader uninterruptedly since years and just in the 2014 risked to be surpassed by Yamaha, while in recent years the gap over all the followers grew up again.
Indeed, the second best-selling brand actually there is Yamaha with 25.629 sales (+0.5%) and with 12.7% of share.
In third place Kymco with 18.420 sales (+9.1%) and 12.5% of market share.
In fourth place, Piaggio  selling 17.744 units (+8.7%) followed by the best premium brand, BMW with 12.967 sales (+19.5%), SYM with 10.065 (+3.2%), Kawasaki with 8.661 (+17.5%), Suzuki with 6.229 (+10.1%) and KTM with 6.143 (+5.4%).
Behind just few brands have lost volume. Among them, Peugeot, down 13.9%, Harley–Davidson, down 7.5% Daelin 11.7%.
Market Heritage
At the end of 2019, the Spanish market ranked third in Europe, after France, and Italy. one place ahead of Germany and Turkey.
At Global level the market was only 25th, ahead of Guatemala , Turkey and Paraguay and behind Germany, Democratic Republic of Congo and Kenya.
Following the 2008-2009 fall, in the recent years the market entered in a positive mood. Indeed, after having peaked down in the 2014 with a record low volume of 135.082, the market has progressively recovered in the last four years, ending the 2018 with 182.814 registrations. This data is still far from the market potential, considering that is still 23.1% (or near 50.000 units) below the 2012 level.
In these years the market changed, with the sharp decline of the 50 cc models demand, the growth of above 50cc scooters, tricycles and quadricycles and the growth of motorbike sector, fueled not only by the traditional Spanish love for this products but also by a strong recovering economy, with growing spending power for leisure goods. 
In terms of volumes and comparing final figures between the 2014 and the 2018, the scooter/moped 50cc segment grew up 14%, the 50cc + scooter/tricycles +18% and the motorbikes +69%, being the only segment with higher volumes in the 2018 compared with 2012.