Kymco Motorcycles global sales performance slowed down in the first nine months of 2019 following a series of 3 consecutive all-time record. Difficulties in the domestic market have penalized the performance, which is quite positive in the rest of the World, from Latam to ASEAN and Europe.
Global Sales Performance
In the last three years Kymco scored three consecutive all time record with its global volume grown up from 480.000 unit in the 2015 at 664.000 in the 2019, confirming the rule as one of the top global player within the Scooter segment.
In 2019 data indicated a poorer performance as compared to 2018. Indeed, during these first nine months, global figures were 481.000, down 5.9%.
International business is growing in all regions, with positive score in China, South America (despite a negative market), in the ASEAN and Europe, but the negative domestic score is penalizing the global result.
New facilities in the Philippines
In a press briefing in Makati City on early April, KYMCO Philippines president Allan Santiago announced the company decision to invest nearly 20 million US dollar in a new facility in the Philippines. The operations are supposed to start in the 2023, when the forecast indicates that the demand for a new type of two-wheeler models (mainly electric fuelled) will be huge.
Indeed, the Philippines are among the fastest growing markets all over the World and new rules to limit pollution will dramatically transform the industry. The new Kymco plant will have a capacity of 6,000 units per month. It will  replace the current facility, located at the Sta. Maria Industrial Estate in Bagumbayan, Taguig City which has a capacity of 5,000 units per month and "old" technologies.
Brand Heritage
KYMCO stands for Kwang Yang Motor Company, headquartered in Kaohsiung, Taiwan. It has about 3.000 employees and produce more than 600,000 vehicles per year.
The company has established several production facilities abroad. Those are located in Indonesia (Jakarta), Malaysia (Petaling Java), China (Shanghai, Chengdu and Changsha) and Philippines (Bagumbayan, Taguig City). 
Founded in 1964, KYMCO originally started out with technology transfer from Honda, Japan. Thanks to the technical know-how from Honda, KYMCO became one of Honda's high quality overseas manufacturing facilities.
Over the next two decades, Honda increased its business interest in Kymco, becoming one of its significant shareholder. However, their strong relationship ended in the 2000, when Kymco started to move on its own feet.
Kymco celebrated its 50-year anniversary in 2014 hitting the milestone of 10 million scooters, motorcycles, e-bikes, side-by-sides and ATVs sold in 100 countries, with an annual sales revenue exceeding (US)$ 1 billion.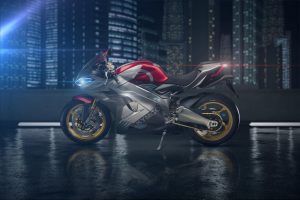 Model Line up
Kymco is a specialist of 125-250 cc scooters, while offering a large line up including below 50 cc moped and a – short – range of street motorcycles. In our Database we have collected over 200 different model/version on sales for Kymco around the World. This was basically due to our decision to customize their model's name country by country rather than using global nameplates.
The most sold single nameplate in the World actually is the Many 125, which will exceed the 56.000 units sold in  2018.
During 2018's Q3, Kymco, who is also a global leader in electric scooter, announced the launch of two new groundbreaking electric scooter models and declared its commitment in making electric a popular reality for  all consumers worldwide. The beautiful retro-styled KYMCO New Many 110 EV scooter is designed for the younger generation, while the KYMCO Nice 100 EV aims to attract a wider audience of electric converts.
Distribution
Leader in its domestic market, nowadays Kymco sells worldwide, exporting more the 50% of the production in Argentina, Brazil, United States, Canada, Colombia, China, Japan, Malaysia, Philippines, Vietnam, Egypt, Iran and Europe.
Investment in India
In order to enter the Indian market, Kymco has formed a partnership with a local start-up in the electric scooter segment, Twenty Two Motors. Kymco invested $65 million acquiring stakes for over 25%, also he supported the technological development of a new plant, a product portfolio and the localization of batteries over the next three years. 
Twenty Two Motors, co-founded by Parveen Kharb and Vijay Chandrawat, will continue to own a majority stake in the company.  They started up in 2016 with the aim to offer affordable electric two wheelers. Thanks to this partnership they will work on premium scooters, which are yet accessible.
Allen Ko, Chairman of Kymco is non-committal on the stake position to ET, but adds Twenty Two Motors the company has found a right partner who shares the same vision.
To kick-start the retail venture, both the partners have decided to open experience stores by Twenty Two KYMCO in the major cities of New Delhi Gurgaon, Jaipur, Hyderabad, Pune and Bangalore soon afterwards.
The first scooter from the partnership is likely to come up in October 2019. With this partnership, i-FLOW – the smart electric scooter by Twenty Two Motors will be equipped with the advanced Ionex technology developed by Kymco. The partnership also aims to set up the entire ecosystem in place to address the range anxiety and charging infrastructure issues with its Ionex platform.
To received Kymco sales figures, by year/market/model, please contact us.