Indian two-wheeler market kept falling in September 2019 with 1.7 million sales (-21%) with year to date figures down in double-digit. All top local brands are losing heavy, a part Bajaj Auto which is still in positive territory. Pushed up by the recently opened local plant, BMW is gaining 900% ranking already in 11th place, only two years after landing in the country. KTM is the premium brands leader, while Harley Davidson is struggling.
Economic Environment
Indian economy likely regained traction in Q2 FY 2019, which runs from July to September, after annual growth slowed to an over six-year low in Q1 FY 2020. This is suggested by a faster increase in private sector activity in Q2 than in Q1, according to PMI data. Moreover, consumers and businesses should have reaped the benefits of lower interest rates in Q2, as the Reserve Bank of India has slashed rates in recent months. However, despite lower rates and encouraging PMI data, consumer confidence has fallen consistently since March and dropped to a multi-year low in September, which probably hampered private consumption growth.
The economy should slow this fiscal year, partly as non-bank financial lenders continue to struggle, restraining new loan extensions to consumers and businesses. Weak public finances, tense relations with Pakistan and a limp global economy will also dampen prospects. On a more positive note, however, an above-normal monsoon and lower interest rates should support growth.
Market Trend
Following rolling years with record after record, the calendar year 2019 is not positive for the Indian two-wheeler market and the growing pathway has been broken, first time after two years.
Indeed sales have been reported down since the start and the first quarter already ended with sales down 8.1%, with 4.8 million units and sale kept declining in the Q2 ending the First Half with 9.67 million units (-10%).
In the Q3 the trend worsened with both July and August sales close to 1.5 million and September 1.7 million (-21.6%) units with Year to Date September figures at 14.84 million units, down a huge 9.7%. 
Please note figures reported include two wheelers, bot ICE and Electric and three-wheelers (rickshaw).
The electric scooter segment for which the Government just raised a target to grow at 20 millions units in the next 5 years, dropped over 40%. To understand more read the dedicated report.
Competitive Arena
Looking at the single brand performance, on top of the list we found again the local maker, Hero, selling 5.1 million units during the first nine month of the year and losing a sharp 14.8%.
In second place Honda sold 3.7 million units, losing deep 20.9%, while in third place TVS reported 2.1 million sales, down 8.2% after having closed the first half in positive.
The best Indian performer in terms of annual variation ranks in fourth place and is Bajaj Auto with 1.9 million motorcycles sales, down 3.8%. Please note that KTM models produced by Bajaj and sold in India are not included in these figures, but reported separately under KTM brand (which is up 30.0%).
In fifth place Suzuki gained two position with 544.334 sales, up a remarkable +15.8%. Yamaha ranks in 6th place with 410.146 sales (-16.0%) ahead of Royal Enfield with 505.836 sales (-21.8%) and Piaggio with 152.913 (-4.6%).
Looking at premium brands, the leader is KTM (locally produced and distributed by Bajaj) with 44.556 sales, up 30%.
BMW keeps booming, after the July 2018 local plant opening and ranks as 11th with 3.500 units. Probably India will be within the top 10 countries this year for the German brand!
Harley Davidson is struggling, losing 28.6% of sales.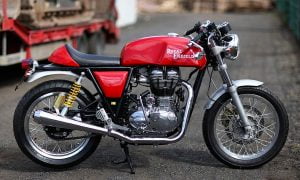 Market Pathway
The Indian Motorcycles Market is the largest in the World since the 2016 when it overtook the Chinese.
The market grew up uninterruptedly in the last 20 years. The milestone of 10 million annual sales had been achieved in the 2010 and only eight years later, in the 2018, a new milestone of 20 million annual sales has been broken.
Ending the year with total sales at 21.6 million, in the 2018 the market performed really well improving by 8.5% from the previous year and hitting the new all time record.
The Indian market was the second to hit the "over 20 million sales" milestone after the Chinese – now dropped below this wire – expanding the gap over all others markets and representing near the 30% of the global two-wheeler vehicles sales.
During the 2018, the market leader Hero sold 7.83 million units (+2.7%) and thanks to this results the brand was able to hit the record of over 8 million global sales (India + export sales). The recovery in rural demand translated into healthy growth in Hero's strong hold entry sub-segment of motorcycles, which accounts for close to 60% of the total segment. The manufacturer continued to maintain its dominance in the domestic motorcycle segment while the relatively weak presence in the fast-expanding scooter segment penalized the total performance, underperforming the industry.
In second place there was Honda with a record of 5.88 million sales (+7.9%). As already seen in the 2017, Honda has achieved impressive market share gains in both the motorcycle and scooter segments, thereby expanding its share in the overall two-wheeler pie and inching closer to the market leader. Scooters remain be main strength for the brand, which improved the segment share supported by continued strong demand for its Activa model.
In third place the second Indian manufacturer, TVS, with 3.05 million sales (+13.2%), performing better than the market increasing its presence across all product segments.
In fourth place Bajaj Auto with 2.38 million sales (+17.4%), a great performance considering the weakness of this manufacturer in the fast growing scooter segment.