Israel Motorcycles Market in the first half 2019 was flat from the corresponding period last year with 9.080 sales. The market is dominated by Taiwanese SYM and Kymco which have a combined market share near 40%. KTM is the best premium brand with an outstanding level of sales.
Economic Environment
Israeli economy lost steam in the second quarter 2019. Contractions in private consumption, fixed investment and exports weighed on momentum, while government consumption expanded robustly. However, a front-loading of car purchases in Q1 ahead of green tax changes distorted the reading, and underlying momentum was broadly stable. Turning to the third quarter, the economy is likely gaining some steam. Monthly economic activity growth in July was above the Q2 average, while the unemployment rate dropped notably year-on-year in the same month, boding well for consumer spending.
The economy should expand at a robust pace this year, supported by loose fiscal policy, strong wage growth and healthy external demand for high-tech exports. Moreover, the development of the Leviathan gas field should boost investment. Regional geopolitical tensions and rising global trade protectionism pose downside risks to growth.
Motorcycles 

Market Trend
Israel represents the largest motorcycles industry in the Levant and Middle East (not including north Africa) and is almost advanced in terms of level of emission allowed (euro 3 standard applied since years and now at euro 4 level) and is the base for several startups to produce electric scooters.
However, in absolute volume the market is small, ranking over the 50th place in the Global ranking. All time record sales was established in the 2017 with 18.423 units, declined 2.2% in the 2018 at 18.017.
The market leader, since a decade – a part the 2015 – is the Taiwanese SYM fighting with the archirival, the other Taiwanese Kymco. In the 2018 they sold respectively 4.054 and 3.024 units with a combined market share of 39.4%.In third place there was Yamaha with 16.7% of share, while Honda is fourth with only 8.3%.
In the first half of the 2019, the market was flat from the previous year with 9.080 sales (+0.3%).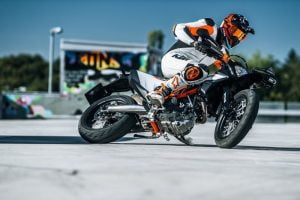 .